Photo Credit: Matt Winkelmeyer/Getty Images
To watch or not to watch…that is the question. Here's reasons why we think it's worth giving up your Sunday night to watch music's biggest night.
#1 Alicia Keys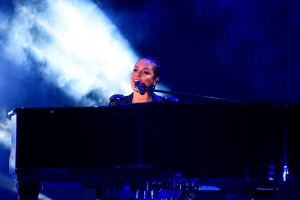 I meannnn…it's Alicia FREAKING Keys. There are always naysayers regardless of whos hosting, but if one things for sure, she has some surprises in store. Besides obviously her beauty and her presence alone, we're hoping she somehow graces us with a lil mini performance or SOMETHING girl.
#2 Motown Tribute
The 60th anniversary of Motown is coming up and to pay homage, is none other than miss Jenny JLO from the block. Some Twitter users were DEF confused when this was leaked, although Jennifer has yet to confirm herself. Regardless, this is going to be a timeless and classic tribute that embodies what the Grammys is all about, "Music's Biggest Night"! And lets be clear, modern music wouldn't be what it is with out Motown. PERIODT.
#3 Best New Artist
Ok ok, yeah, there's album of the year and song of the year…and those are GREAT. But here me out! Best New Artist is like a peek into the future right?! It acknowledges someone who is new to the game and has had a GREAT year, and usually it reveals those artists who are going to have some longevity in their career. Oh don't worry I have RECEIPTS too! Previous winners include: 1991 Mariah Carey, 1994 Toni Braxton, 1999 Lauryn Hill, 2002 Alicia Keys, 2006 John Legend, 2017 Chance The Rapper. ANYWAY, you see where I'm going with this…
The nominees for this year are:
Luke Combs
Dua Lipa
Bebe Rexha
Jorja Smith
Greta Van Fleet
Chloe x Halle
H.E.R.
Margo Price