Photo credit: Scott Eisen / Whitney Curtis / Kevork Djansezian
There are plenty of firsts in politics after yesterday's historic primary election.
Ilhan Omar and Rashida Tlaib are the first Muslim women to be elected into Congress for the United States House Of Representatives. A video of Omar went viral yesterday, showing her thanking her supportive voters and excited to go to Washington.
View this post on Instagram
Here are some more first-time winners: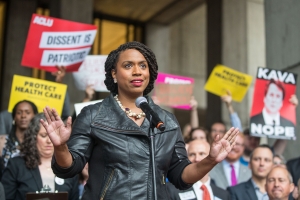 Ayanna Pressley became the first black woman to win a congressional seat in Massachusetts.
Democrat Sharice Davids became the first openly gay Native American to be elected to Congress in any state.
Alexandria Ocasio-Cortez is the youngest representative in the history of Congress at just 29 years old.
Gavin Newsom will be the first openly gay governor of California.
The Democratic Party won back control of the House of Representatives after it was Republican-run for two years.
Progress is slowly being made all over the country and we're really proud of everyone who went out and took their time to vote!